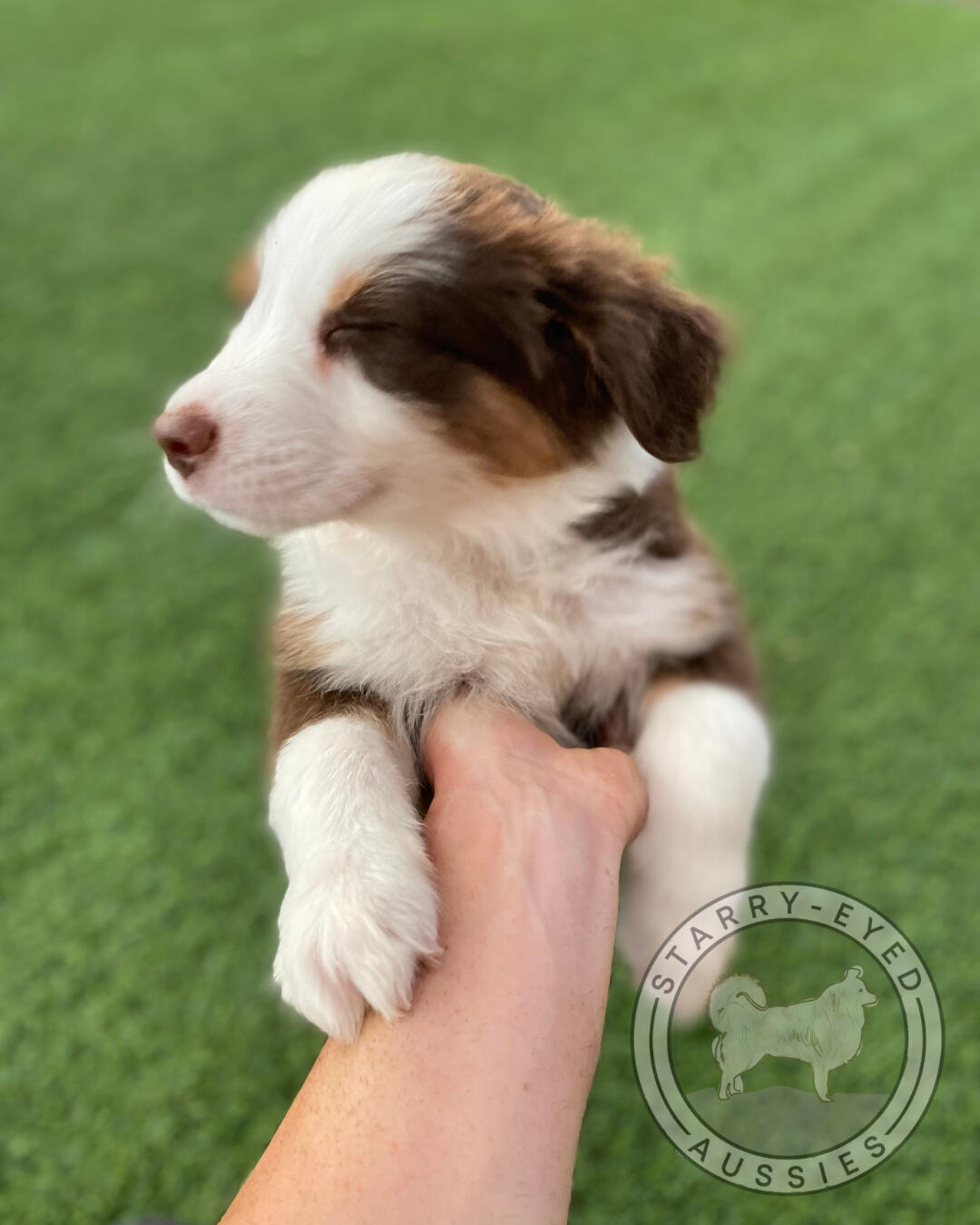 Bella x Mason:
NEW LITTER born on May 29, 2023!
READY TO GO HOME: August 7, 2023
Starry-Eyed Aussies
We offer the fluffiest Mini Australian Shepherd puppies (aka Mini American Shepherds) in southern Arizona. All of our puppies are dual registered with the ASDR and AKC, with pedigrees.100% bred and raised in our home, one litter at a time.
Learning
Puppy Preschool
Our puppies are exposed to new stimuli every morning from the age of 4 weeks on, and handled daily with love! After breakfast they have open play and explore slides, tunnels, climbing, and water play. We keep it fresh, so every day is exciting!
Wellness
Health & Vet Checks
All our puppies and adult dogs receive care from a quality, licensed local veterinarian. They receive their first DHPP puppy vaccines at 7-8 weeks, and will come with their official vaccine sticker and payment receipt. We are happy to share our vet references with our potential puppy buyers! Health certificates for travel can be provided, upon request.
Ready for Car Rides
Road-Trip Ready
All of our puppies are gently introduced to car rides as a litter, with increasing durations, and most have gone for a 2-3 hour trip. Our puppies show little to no anxiety in the car, and have been tested for car sickness!
Ethical Breeding
Supreme Mama Care
All of our dams are our live-in pets! We do not keep them in a garage or detached kennel, ever. They sleep with us, they eat with us, and they eat with us. Mamas receive daily massages and extra nutrients during their pregnancy and recovery, until they are back to 100%. We baby them, so they can baby their pups.
Home-Bred From the Beginning
Mamas & Papas Raised from Birth
We have only 2 dams and 2 sires, and we have raised them ourselves from 8 weeks on. We are a true-blue Aussie family.When we say we KNOW our dogs, we really mean it!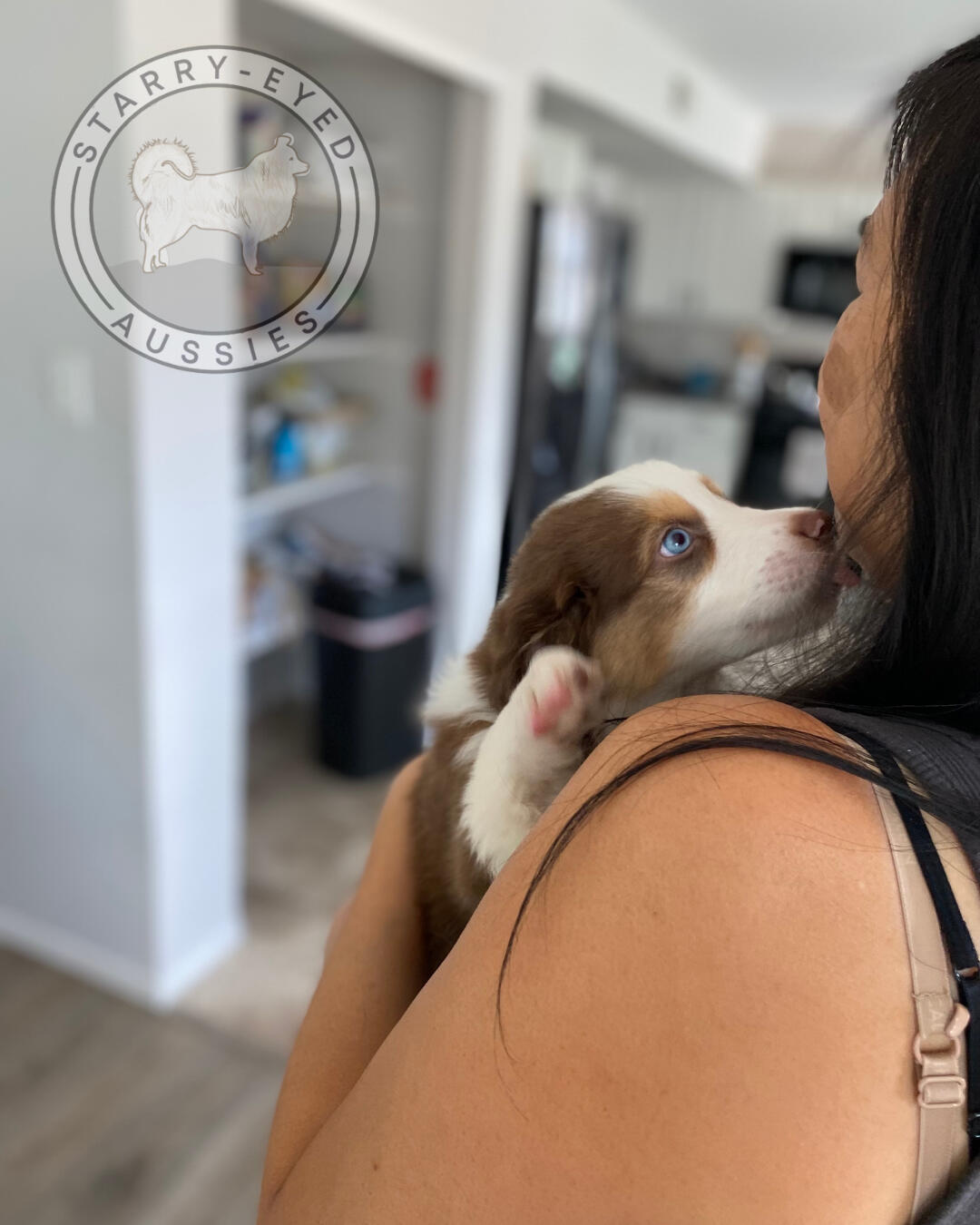 Odysseus
*SOLD*
to Brooke in MA
Mr. Orange
Red Tri Male w/ Tail
One Marbled Blue & Amber Eye, One Solid Amber Eye
Icarius
Mr. White
Red Tri Male w/ Copper Mask & Tail
One Green Eye, One Clear Blue Eye
Penelope
*SOLD*
Miss Red
Black Tri Female w/ Tail
Two Dark Amber Eyes
Hermes
*SOLD*
to Sherry in AZ
Mr. Yellow
Red Tri Male w/ Tail
Two Amber Eyes
Apollo
*SOLD*
to Sherry in AZ
Mr. Blue
Red Tri Male w/ Tail
Two Amber Eyes
Mama Bella
Never for sale :)
Bella the Ballerina
Black Tri Female w/ Natural Bobbed Tail
Two Dark Brown Eyes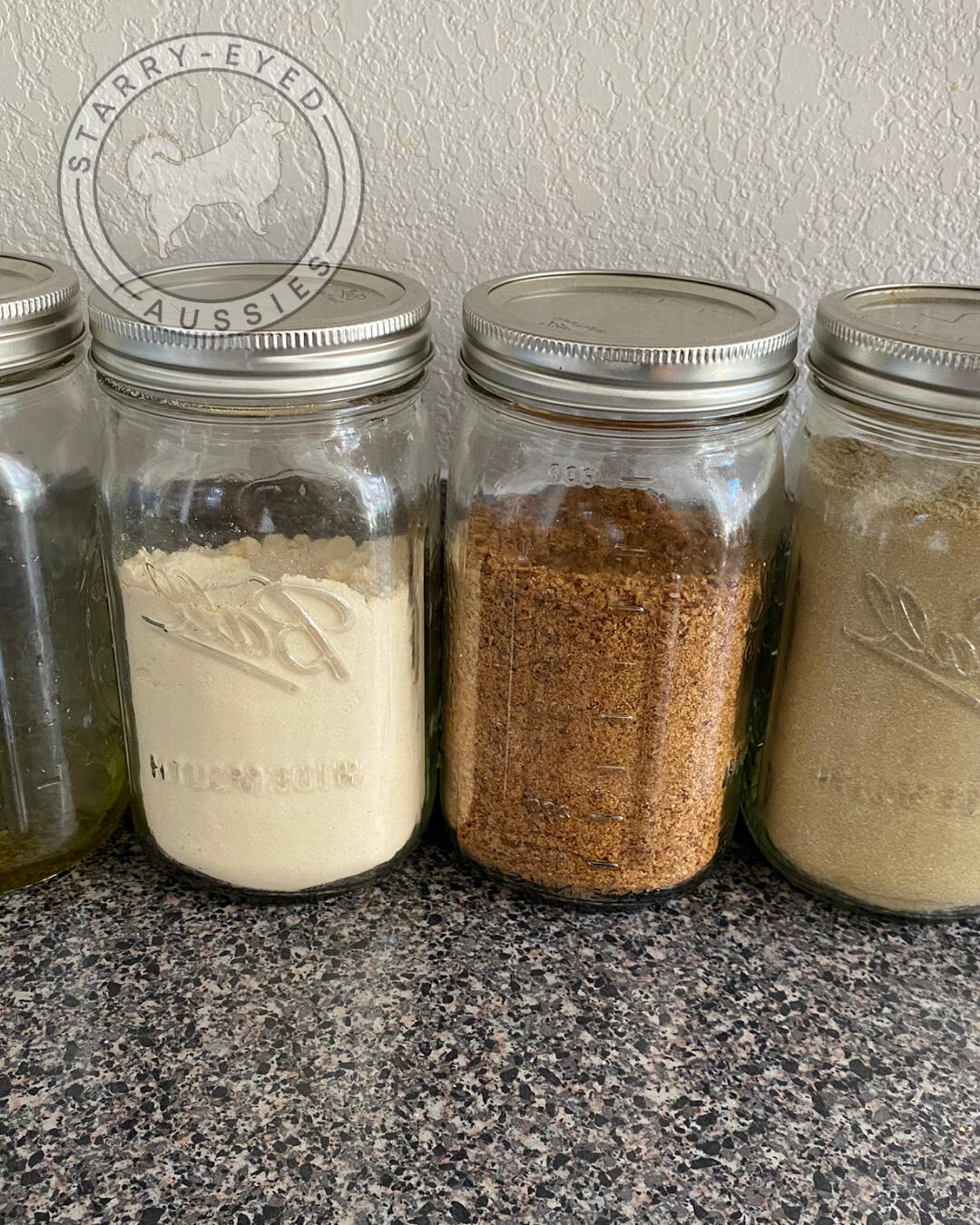 Service Above & Beyond
Wrap-Around Support
We go above and beyond to support our puppy buyers! Our puppy buyers get a direct line to us whenever something comes up they can't solve on their own. With over 30 years of dog experience - raising & training dogs, fostering dogs, and working with rescues - we've been through it all!
Cleanliness
A Clean Home
Would you believe, we do our dog dishes every day? Oh yes we do! :) We believe the best way to ensure the health of our puppies is to keep a safe, clean environment. We use natural cleaners whenever possible and deep clean monthly.
Sounds & Sights
Puppy Exposures
Our puppies are encouraged to be brave. From the Roomba to remote control cars, loud movies, dryers, and trash trucks, our pups are confident & curious! Even stairs and slides are no problem for our pups.
Daily Handling
Easy to Groom
We do our own nail trims once a week, and daily handling for each pup, from tooth to tail! Baths, blow dryers, and brushing is a breeze with our pups.Every puppy has received at least 4 solo full grooming sessions by Go Home Day.Some of them actually love their "spa days"!
The Fine Print
Paperwork & AKC Reunite Microchip, Done For You
Did you know that purebred puppies come with lots of paperwork? All of our puppies are DUAL or TRIPLE registered with the ASDR, the AKC, and/or the CKC. All of our pups also come with their own AKC Reunite microchip and free lifetime registration. As a courtesy for our puppy buyers, we will confirm your best contact info upon the Three Day Check-in, and register them FOR YOU for free!
Everything You Need on Day One
Our "White Glove" Puppy Pack
We love to shower our Puppy Buyers with gifts!! We call it our "White Glove" Puppy Pack - it includes 2 chew toys your pup will actually love, a ball, a brand new puppy collar and matching bandana, a gallon bag of the exact high quality grain-free food we feed all our puppies & adults, a gallon bag of the "litter" our pups are trained to use, a disposable temporary litter box, and 30 days of FREE puppy insurance.We even include life-saving styptic powder (if you don't know what that is do not worry we will help!) and a pack of dewormer, just in case your pup accidentally gets into the dirt early on. And of course, your puppy's first tiny puppy collar, as a keepsake.Choose your favorite puppy crate - we can advise if you wish! - and you are ready to go on Day One!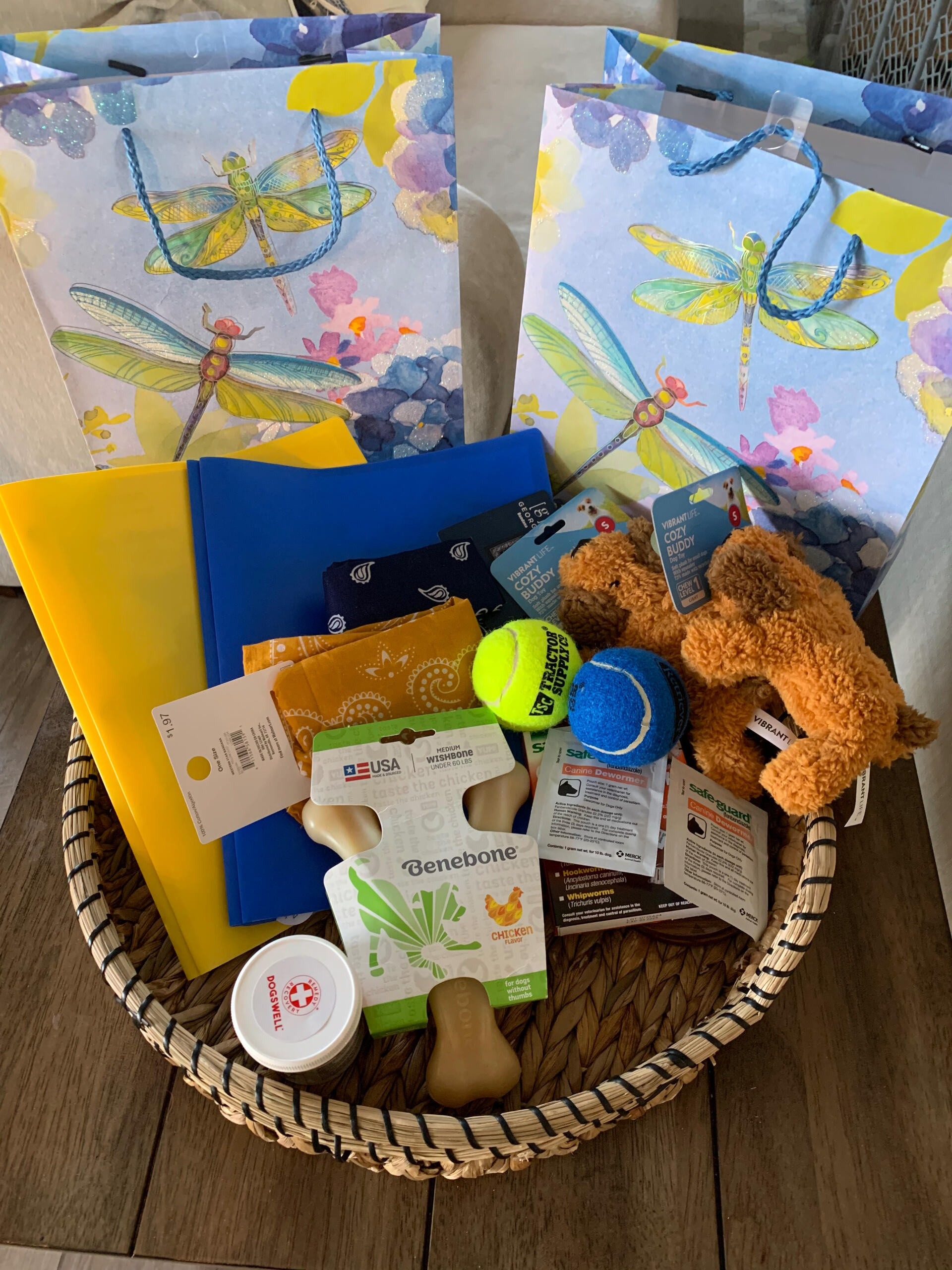 Bella x Mason
Red Tri & Black Tri
with Green, Blue, Amber, Marbled EyesDual Registration:
AKC Mini American Shepherd
ASDR Mini Australian Shepherd
Foxy x Slugger
Black Tris & Blue Merles
with Blue and Brown EyesDual Registration:
ASDR Mini Australian Shepherd
AKC Mini American Shepherd
About Us
Our Family Ranch in AZ
On the Edge of the Sonoran Desert!We have been in the dog rescue business for generations! New to the breeding world, our love for all dogs (mutts and all!) has easily translated over to our Mini Aussies.Our goal is to provide you & your family the fluffiest, fun Mini Australian Shepherd of your own to brighten your life and bring you new adventures! We are happy to talk all things Aussie, so please feel free to just get in touch, even if you are not currently looking for a pup. Information & advice is always free!Dog people are our people! ❤️ Thank you for choosing an ethical breeder.
Get in Touch
© 2023 Starry-Eyed Aussies, Douglas AZ. All rights reserved.